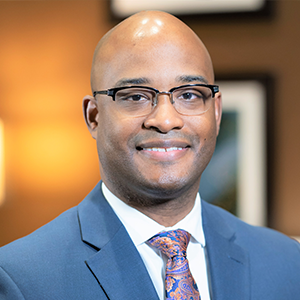 Adam Arrington
Secretary
Equipped with lessons from the past and plans for a better future, Adam Arrington, strives to serve his community, under God's direction, by helping African Americans to gain empowerment through Government, Finance, and Human Rights. Preparing for his abilities in this role, Adam attended Oral Roberts University, where during his senior year, he was elected president of the student body. Gaining valued experience from this time, he went on to complete his studies at Oral Roberts University in 2008, earning a Bachelor's of Science degree in Business Administration.
With his degree in tow, he gained the position of Southeast Territory Manager with his Alma mater. Following this position, he held several roles in the financial industry which included his time as an Insurance Adjuster, Banker, and Wealth Management Financial Advisor. Today, and utilizing these past experiences, he now serves as an Officer and Wealth Management Banker with Merrill Lynch Bank of America.
Alongside this and his previous roles, he has held several dedicated positions in the fields of politics and advocacy. Influenced by the work of leaders such as his grandfather, Dr. Richard Arrington Jr., the 1st African American Mayor of Birmingham, Alabama, Adam used his time outside of his work in finance to aid his community by serving as the Chairman of The Jefferson County Citizens Coalition. He has also served as a Lobbyist and Delegate for AIPAC, Vice-President for the Jefferson County Millennial Democrats, and was a member of The Committee to Save Jefferson County.
No matter where he is serving, Adam has stayed committed to allowing God to use his life to help others as he draws inspiration from Dr. Martin Luther King Jr., Barack Obama, Deval Patrick, Bishop Vanable H. Moody II, Dr. Cornel West, Senator Bernie Sanders, and many others. Just as he is focused on his mission to advance and advocate for policies that support and empower African Americans, Adam also commits the best parts of himself to his family. He and his wife of 11 years, Denise, are the proud parents of 7 year old, Leona Diane. When he is not spending his free time with his girls and the rest of his family, he enjoys serving in his church, reading and continuously increasing his knowledge in finance and politics.